Lewisham Community Energy Fund in action
Local schools and community groups benefit from local grant to increase awareness and improve energy efficiency.
The Lewisham Community Energy Fund was launched in 2019 as part of the work to make Lewisham a carbon neutral borough by 2030.
Local community groups and schools were invited to apply for funding to help cut their carbon emissions and increase awareness of alternative sources of energy.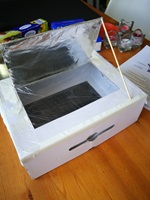 Councillor Slater and two officers visited one of the projects that was awarded funding before lockdown in March, to see how they were doing this.
Local architect Harry Paticas was awarded funding to work with St Winifred's RC Primary School in Lee creating a programme of education, engagement and research with the school community. Harry's community interest company RAFT is a social enterprise. RAFT provides education and deep retrofit advice to schools and communities on the path to becoming carbon neutral.
Harry delivered two workshops with Year six pupils over two weeks pre-lockdown, and has continued working with the school via zoom workshops and home learning projects. Home learning projects included pupils making a solar powered oven using materials from around the home, taking an energy survey and designing their own energy efficient home.
The pupils have learnt about the challenges we face as the effects of climate breakdown start over the next few decades. The project has taught them how heat is lost from buildings and empowered them with knowledge of how they can reduce carbon emissions at school and at home.
The education programme and further research work by RAFT will provide St Winifred's with a clear plan to become a carbon neutral school. The zero carbon action plan will be complete by September 2020, and announced in a combined physical and virtual assembly attended by Janet Daby MP.
Councillor Jonathan Slater, Cabinet Member for the Community Sector said "It was great to visit St Winifred's in March to learn more about how our Community Energy Fund is being used. I am impressed the work has continued in these challenging times for our schools. It displays the commitment from RAFT, St Winifred's and its local community to make real change in how we can all reduce our carbon footprint"
Harry Paticas of RAFT said "We are delighted to be part of the Lewisham Community Energy Fund programme. Running workshops and on-line activities on climate breakdown and energy efficiency with the year six pupils at St.Winifred's Primary School has been a huge privilege. The school community has been really supportive of our work and we are incredibly excited about delivering a zero carbon action plan for the school."
Published on: 24/06/2020