Progress of the Lewisham Gateway development
Information about the largest development in Lewisham town centre.
The scheme involves the removal of the roundabout opposite Lewisham's railway and DLR stations. This will be replaced by a new road layout and a new development which will make it easier for pedestrians to get back and forth from the stations to the town centre. When complete, Lewisham Gateway will include:
shops, restaurants, bars and cafes

Confluence Place, a park where the Ravensbourne and Quaggy rivers meet

a town square opposite St Stephen's Church.
Lewisham Gateway – first phase
The first phase of Lewisham Gateway is now underway, and involves the redevelopment of land close to the stations. (Until very recently, this land was also the location for the bus stand. The bus stand has now relocated to a purpose-built facility on nearby Thurston Road.)
This phase will see the construction of 'Building A' (marked with an 'A' on the site plan below) along with landscaping to the adjacent area to create Confluence Place. 'Building A' comprises two blocks (25 and 15 storeys) providing 193 new homes, along with ground-floor shops and restaurants/cafes.
This phase also includes the changes to the roads and rivers, which will in effect create the rest of the Lewisham Gateway site.
As much as possible will be done to minimise lane closures, diversions and delays during the construction period. All bus services will continue to run, although there are minor changes to some routes passing through the area.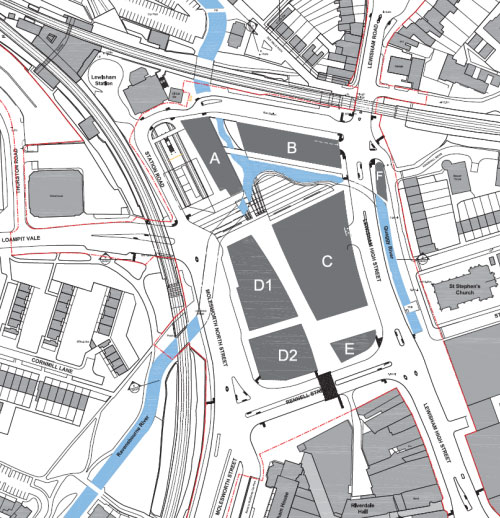 Detailed plans for a further buildng (marked with a 'B' on the site plan above) were approved in December 2014. This comprises two blocks (22 and 15 storeys) incorporating another 169 homes, plus cafes and shops overlooking Confluence Place, and new pedestrian routes to Lewisham Station and the DLR.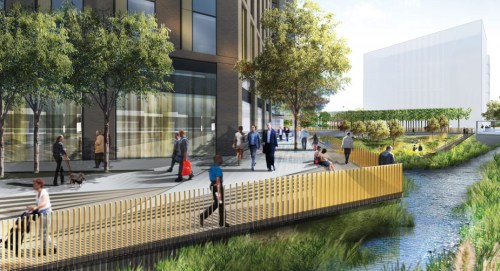 An artist's impression of 'Building B' overlooking Confluence Place
The remainder of the scheme will be built in phases over an expected 5-6 year period.
Lewisham Gateway is a collaboration between Lewisham Council, the Greater London Authority, Transport for London and developer Lewisham Gateway Developments Limited.
You might also be interested in: