Kender to the Creek picture gallery
The route between Deptford and New Cross town centres (and their respective stations) was identified as a top priority for the first phase of the North Lewisham Links programme.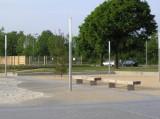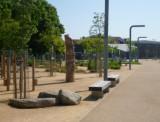 The most significant changes include:
Fordham Park and New Cross (Walpole Road) underpass
Improvements have been made to the main entrances and the football pitch, along with new footpaths, seats, lighting and signage, a meadow and orchard area, three play areas – for under-5s, teens and families – and a youth shelter designed in conjunction with pupils at Deptford Green School. The entrances to the nearby New Cross (Walpole Road) underpass have been cleared of shrubbery for improved visibility, and the underpass itself now has new CCTV, and lighting designed by local artist Heather Burrell.
The project was highly commended at the 2012 Landscape Institute Awards.
Margaret McMillan Park
Several large shrubs have been removed and the main footpath straightened,
making for much better visibility. There are new plants, lighting and seating;
plus original public art, and a modern children's play area. Since its makeover was completed, the park has won three prestigious awards:
Best New Public Space – London Planning Awards (January 2012)

Winner, Urban Green Space category – Local Government News Street Design Awards (August 2011)

Community Recognition award – Civic Trust (March 2011).
Douglas Way
Improvements along Douglas Way, outside the Albany Theatre, include new paving, seating, lighting and trees, as well as the provision of a better electrical supply for the market
Published on: 05/12/2018