Pupils demonstrate transformative life skills at Lewisham Young Leaders Academy
Black Caribbean and dual heritage pupils have shown Lewisham Council leaders the transformative life skills they've been developing at an innovative Saturday school.
Lewisham Young Leaders Academy (LYLA) was launched last autumn to teach leadership, teamwork, presentation and CV building skills to Black Caribbean and Black Caribbean/White pupils.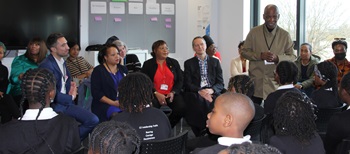 The scheme runs every Saturday morning in term time, and has already welcomed 50 young people who attend weekly. The morning schedule starts with a short burst of physical activity to boost energy levels and is followed by varied sessions such as spoken word performance to grow confidence and inspire 'on the spot' thinking, and speech training to encourage public speaking. Students also enjoy lessons on Black History and Black British History, and regular workshops from inspiring leaders across different industries such as business and finance.
The Saturday school is funded by the Council as part of its ambitious programme to raise the achievement of all pupils, and particularly those who have historically experienced poorer educational outcomes. In a ground-breaking partnership, St Dunstan's College provides the venue and facilities free of charge, and Westside Young Leaders Academy delivers the teaching.
The young people taking part are invited to enrol through their school or other networks connected to the scheme. The initiative has the support of local parent network Lewisham Education Group, who have been working closely with Lewisham Council to get it up and running.
Damien Egan, Mayor of Lewisham, visited the programme last Saturday to speak to the young leaders, answer questions and see some workshops in action. He was joined by Cllr Brenda Dacres, Deputy Mayor of Lewisham; Cllr Chris Barnham, Cabinet Member for Children's Services and School Performance.
Charlie told them how she had been benefitting from the training:
"I enjoy coming to Young Leaders, because I get to learn new skills every week, and also about Black history, which is something we don't really learn about in school. It's nice to come here and finally learn more about my heritage, where my ancestors are from, and it makes me look forward to coming here every week."
Another young leader, Kingston, said:
"What I get out of coming to the Lewisham Young Leaders Academy is different to what I get out of my school. The things I learn at the Academy I use in everyday life, it helps me to carry myself in a different way, I learn about responsibility, leadership, and loads of other values that I can bring back into my school and help it to be better."
Mayor Egan said:
"We live in the wealthiest city in Europe, and for too long many of our young people here in Lewisham, and particularly those from African and Caribbean backgrounds, have found it difficult to access those top jobs and opportunities. Initiatives such as this will help give our children the skills, experience and resilience they need to succeed. We're now looking at how we can roll out this programme into schools to help more children in Lewisham."
Cllr Chris Barnham said:
We're ambitious for all of our young people. Every child in our borough deserves the best possible start in life. But we know that some children face big challenges. Programmes like LYLA can help raise their sights and help them succeed. I look forward to seeing these youngsters fly.
Susan Rowe, co-founder of Lewisham Education Group, said:
"Lewisham Education Group was created to work in partnership with the community, Lewisham Council and schools to improve educational outcomes. A huge part of this is supporting young people and their families to empower themselves, to take responsibility for themselves, and to become leaders in their own communities.
"We are proud to be supporting Lewisham Young Leadership Academy and its development, and are pleased this is equally supported by the Council. By supporting this programme we are working towards greater equality, social mobility and support for all young people in Lewisham."
Published on: 17/03/2022