Planning permission has been granted for the Besson Street development site in New Cross
The development will deliver 324 new rental homes, including 35% affordable, a new GP surgery and pharmacy, and new community space
Website survey

We want your help with improving our website so it is easier to use, and provides the information that residents need. Help us by filling in this short survey.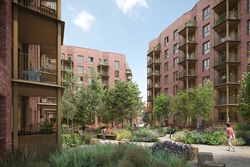 The 50/50 Joint Venture partnership between Lewisham Council and Grainger plc last night secured planning permission to develop land on Besson Street in New Cross Gate.
The application followed an extensive programme of consultation with the local community, with residents and a range of key stakeholders given the opportunity to input and continue to feedback on plans throughout the design process.
The development will include 324 quality new homes for rent, providing a mix of 1, 2- and 3-bedroom homes. 35% of the new homes will be affordable, let at London Living Rent levels, which will be accessible to key workers.
The development will also provide a range of benefits for the local community including a new NHS GP Surgery and pharmacy, new office and activity space for the New Cross Gate Trust, and new publicly accessible open space and landscaping, including children's play space.
The new homes will be available with tenancy options up to five years, with an option to renew. The Besson Street development will be tenure-blind. This means that all homes will be built to the same standard, with all tenants having the same service offer regardless of tenure. All tenures will be mixed across the development with an equal distribution of London Living Rent and market rent homes across all unit sizes.
Residents will also benefit from around 5000 sq.ft of shared amenity space, including a residents' lounge, gym and co-working space, all of which is included in the rent.
Spaces are designed to create opportunities for resident interaction, bringing life into the building and creating a community, where people want to settle and make a home.
This much needed new community space to be run by the New Cross Gate Trust for the benefit of the New Cross community.
Construction is expected to start in October 2021 with completion anticipated for October 2024.
Cllr Paul Bell, Cabinet Member for Housing at London Borough of Lewisham said:
"The decision made last night will inject a welcomed delivery of 324 new homes in the New Cross area. The 114, affordable London Living Rent homes will be aimed at Lewisham residents who cannot afford private rents but who do not qualify for social rent accommodation. The Council is proud to be able to jointly deliver these new homes with Grainger and is looking forward to seeing the Besson Street site deliver the much needed homes that our resident need."
Helen Gordon, Chief Executive, Grainger plc said:
"We are delighted to secure planning permission for our Besson Street development. Working in partnership with the London Borough of Lewisham, this provides a great opportunity to deliver much needed new homes in Lewisham and a range of additional benefits for the local community. At Grainger, our aim is to redefine the way that people rent property, and through our long-term commitment to Besson Street, we will enable people to rent both flexibly and long-term. Our high-quality homes will be matched by a commitment to high quality management, providing our residents with great homes in a great community."
Jenny Couper, Strategy and Partnerships Manager at The New Cross Gate Trust, said:
"We're incredibly pleased at the New Cross Gate Trust to hear that Lewisham's Strategic Planning Committee have now approved Grainger's planning application for the regeneration of Besson Street. The facilities that this scheme provides will greatly benefit our local community. A new, modern and fit for purpose GP surgery will increase capacity and expand the range of health services available locally, while the rent from this surgery will enable the New Cross Gate Trust to expand the services that we can offer to local people from a new bespoke community space. Meanwhile, the London Living Rent housing provision will protect our local residents from insecure tenancies and rapidly rising housing costs. We look forward to seeing the development get underway".
Published on: 31/07/2020