New social homes completed at Dacre Park North: An interview with newly moved in resident Julietta
Delivered by the Council's housing company Lewisham Homes, the houses were built as part of the Building for Lewisham programme, which is currently building new social homes across Lewisham.
These genuinely affordable, high-quality council homes aim to help create and support sustainable and diverse communities throughout Lewisham. We spoke to newly moved in resident Julietta to find out how she and her daughter are settling into their new home.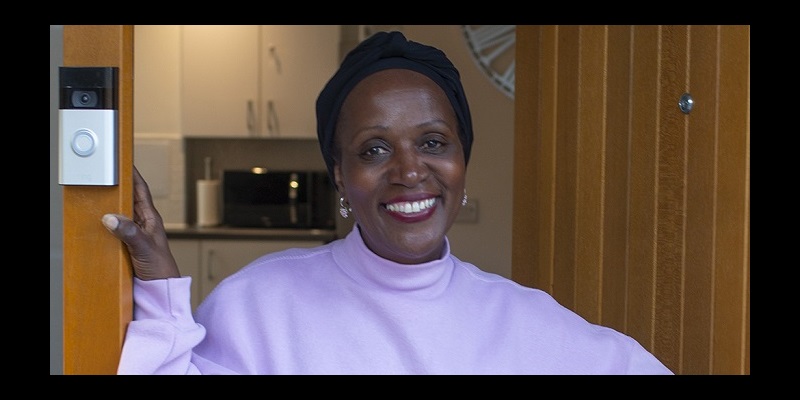 How long have you been in your new house and how are you settling in?
We've been here just about two months and we're settling in very well. We feel like we're pretty much at home now.
What are your favourite things about the new place?
One of my favourite things is being able to walk out the door and go to Blackheath – it's really nearby! Walking to Blackheath market is great. Having a brand new build is also fantastic – it's lovely and clean. The house is part of a row of only five houses which makes it calm and quiet, plus I've met most of the neighbours. There's also great access to a lot of shopping areas and facilities. I do already know the area, which helps, having friends around here and the rest of borough.
How's your daughter taking to the transition?
She's loving it. She's got a bigger bedroom, so she's happy! She studies in Greenwich, so it's also very conveniently placed.
Is this your first council house or is it a change from a previous one?
We were previously in Downham in a three-bedroom place, so we've downsized to a two-bedroom house. However, the new house has a lot of space.
How long did you have to wait to find something suitable?
A long time! I put my name down to change property in 2013. The ball started rolling from 2015 and then it died down. In 2019 some other offers came up but they weren't suitable. Then this came up a year ago, and it's brilliant!
Cllr. Paul Bell, Lewisham Cabinet Member for Housing & Planning, said:
"Everyone deserves a decent, secure and affordable place to live, and I am delighted that Julietta and her daughter are settling into their new home. Our commitment to delivering more social homes and tackling the housing crisis remains as strong as ever, and the COVID-19 pandemic has reinforced why this is so vital to supporting local people's health and wellbeing."
Read here for more information about the Building for Lewisham programme.
Published on: 12/10/2020