Lewisham Council spotlights apprentices for National Apprenticeship Week
Lewisham Council is shining a light on the contribution of its apprentices as it celebrates National Apprenticeship Week which runs from 7 to 13 February.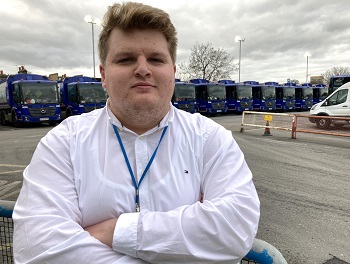 It is the perfect opportunity for Lewisham Council to reflect on the achievements of the Mayor's Apprenticeship Scheme which was launched in 2009 to support the local economy and provide opportunities for residents. The programme has so far supported almost 700 residents into a wide range of roles from social care and housing, to digital, to construction trades.
All apprenticeships supported by the programme are paid at the 21+ National Living Wage of £8.91 an hour, and all Council apprentices receive the London Living Wage of £11.05 an hour. Since the programme began in 2009 three quarters of apprentices have moved on to a permanent role, with 82% of Council apprenticeships progressing into permanent employment.
Cllr Kim Powell, Cabinet Member for Business and Community Wealth Building, said:
"We are working hard to ensure Lewisham is a place where people can achieve and go into rewarding, well paid jobs. Our fantastic apprentices contribute so much to the borough.
"Apprenticeships are a brilliant way to build your career and to earn while you learn. And there's no upper age limit either.
"As a Council, we also support local businesses to invest in their workforce, to create apprenticeships – whether new jobs or providing chances to upskill – to access financial support, and find local talent.
"Businesses who are already part of our scheme, say they get as much out of it as the apprentices. If you are a local employer, who thinks you can offer a role, we'd urge you to get in touch."
The Council has nearly 80 apprentices on its payroll including Ryan Robertson-Barnes, 21, who works as an Administrative Assistant in the Environmental Waste department and combines his office job with studying for an apprenticeship qualification.
Ryan said: "Applying for an apprenticeship seemed a bit unconventional at first, especially when leaving Sixth Form, where the vast majority of leavers were going to university. However, I've never looked back.
"Since applying for an apprenticeship with the Council, I've been able to build my interpersonal skills and develop great relationships with my colleagues.
"Most importantly, I've been able to gain experience within a workplace environment, which is what the vast majority of employers look for in prospective employees."
Another Lewisham Council trainee, Leila Dantes-Michael, 48, had previously assumed apprenticeships were only for the under-25s. She joined the scheme after giving up her job in a private hospital and has now moved onto a permanent role in the Council.
Leila said: "I always thought apprenticeships were only for young people and I was wrong. Sometimes parents who have been out of work for a while may be unsure of how to get back into the job market and lack confidence.
"But the great thing about an apprenticeship at Lewisham Council is that they support you every step of the way.
"The key is your willingness to learn and do the job. There is never a dull day. I have had a great experience and would recommend apprenticeships to anyone who is looking for something new and exciting."
The Council will celebrate National Apprenticeship Week with a week-long promotion sharing first-hand experiences from current apprentices.
For more information on apprenticeships visit the Council website.
Published on: 07/02/2022