Protecting and nurturing our trees
Lewisham Council looks after about 37,000 trees, and we continue to add to this number year on year.
Through the regeneration of Beckenham Place Park, which saw more than 24,000 whips planted since 2017 and our ongoing partnership with Street Trees for Living to create more leafy streets, we are sowing the seeds for a greener Lewisham.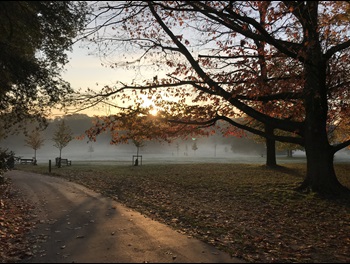 As we prepare for the new planting season, our Cabinet Member for Environment and Transport, Cllr Patrick Codd, explains why protecting and nurturing trees is so important to the Council – and highlights an opportunity for community groups to request the planting of new trees, along with other improvements, in their local green space.
Trees are really important to us for many reasons – including our mission to become carbon neutral by 2030. We recognise the many benefits that mature trees provide in terms of biodiversity, shading, flood prevention and the visual appearance of our borough's landscape. As part of our strategy to build a greener future for Lewisham, we are committed to protecting and nurturing trees.
Transforming Beckenham Place Park from a golf course into a park for the whole community several years ago presented the ideal opportunity to plant thousands of new trees. Through these we have introduced a range of improvements, from restoration of woodland that had been lost through expansion of the golf course, to enhancement of park boundaries and creation of new hedgerows.
We have also worked in partnership with the charity Street Trees for Living to plant hundreds more in streets around the borough – on average more than 230 per year since 2017. The new planting season begins later this month and our tree services team is preparing to deliver at least as many again this year.
Sadly, and of course inevitably because they are living things, some of our trees will die each year. And sometimes we are forced to fell others because they are diseased or implicated in the subsidence of a third-party property. We do need to be mindful of the impact on affected property owners, as illustrated in MyLondon news. We only fell a tree if we are absolutely sure there is no viable alternative – and we always do so with a heavy heart. However, I am determined to ensure that the number of trees planted in a year far outweighs the number of trees lost. We recognise it will be many years before new trees are able to offer the benefits of mature ones, but we can at least take this step for the sake of future generations.
Greening Fund
We know that many of our residents are also strongly committed to the protection and nurturing of green spaces and biodiversity in our borough. For those who are active in a community group supporting one of our wonderful parks and green spaces, there is the opportunity to apply for funding through our £1 million Greening Fund.
Now in the second phase of its five-year programme, the Greening Fund offers a 'shopping list' of infrastructure improvements that local groups can easily apply for. Phase 1 brought enhancements to 33 sites across the borough – including trees, biodiversity enhancements, plants and raised bed planters. Other improvements on offer include compost toilets, water-saving storage tanks, and bird or bat nest boxes.
Local groups can find more information about the Greening Fund on our website. But anyone keen to apply must act quickly: the deadline for applications is 24 September.
Published on: 13/09/2021