Clinical waste disposal
Find out how to get rid of clinical, healthcare and offensive waste.
Easter Bank Holiday waste collections

Monday 10 April to Saturday 15 April. Usual service will resume week commending Monday 17 April.

All refuse and recycling collections will take place one day later than normal due to Easter celebrations.
| | |
| --- | --- |
| Standard collection day | Revised collection day |
| Monday 10 April | Tuesday 11 April |
| Tuesday 11 April | Wednesday 12 April |
| Wednesday 12 April | Thursday 13 April |
| Thursday 13 April | Friday 14 April |
| Friday 14 April | Saturday 15 April |
Make sure your bins are out for collection on your revised collection day.
Healthcare and offensive waste (non-infectious)
What is healthcare and offensive waste?
This includes soiled refuse, such as surgical dressings and swabs, and items used to dispose of urine, faeces and other bodily secretions, such as incontinence pads, stoma bags and urine containers.
How to determine if it is infectious or not
Your GP, nurse or healthcare practitioner will need to assess this waste to determine whether or not it is infectious. If it is classified as non-infectious, it can be disposed of as healthcare or offensive waste. See below to find out what to do with infectious waste.
How to dispose of non-infectious healthcare and offensive waste
You can dispose of non-infectious waste in your refuse bin.

Please make sure the waste is secured in plastic bags – never put it in the bin loose.

Do not use yellow bags for this type of waste.
If the waste will not fit in your bin
If you produce a large amount of non-infectious waste, you can Request a bigger rubbish bin.
Clinical waste
What is clinical waste?
This includes:
sharps, such as needles, syringes and scalpels

infectious medical and incontinence waste.
Clinical waste collections
We can collect clinical waste from your home if we receive a referral from your GP, nurse or healthcare practitioner. Please speak to your GP or call the district nurse team.
Any waste produced by a community nurse or healthcare practitioner while carrying out treatments in your home should be removed and disposed of by the healthcare provider.
How to dispose of it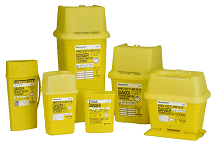 Please secure all needles, sharps and syringes in a sealed sharps bin, never in yellow bags or mixed with other waste. Your healthcare provider can supply you with empty sharps bins.

Please place all other clinical waste in the yellow bags we supply, securely tied and not overfilled.

Put out the waste ready for collection on your designated day. We do not provide storage bins for clinical waste.
Items we do not collect
Unused drugs or pharmaceutical products – you should return these to the chemist that dispensed them.

Cytotoxic waste (sharps bins with purple lids) – please speak to your healthcare practitioner for further advice.
Collections for organisations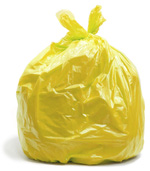 We provide a chargeable clinical waste collection service for organisations and businesses such as care homes, nurseries, and schools. Please contact us using the enquiry form to arrange a collection or discuss your needs.
Published on: 27/10/2010