How and where to get your equipment to help you live at home independently
​The process for getting community equipment, and where to buy it from.
Tell us what you think about our website

We are working on improving our adult social care web pages. Please complete a short survey about your experience of using our website.

Can't find what you're looking for or worried about someone's safety?
How to get equipment
Option 1: help yourself
We encourage you to buy your own equipment directly. This is easier and quicker than asking for support from us.
Use the information on these webpages to find out what equipment is available and what to think about when buying equipment then see below for details of where to buy it.
Option 2: ask us for help
If you cannot find the information you need on these webpages please contact us or do an online assessment to find out if you're likely to be eligible for help.
Where to get your community equipment
You can buy your equipment from one of our approved retailers. These are pharmacies that we have approved because they can provide advice and sell the type of small equipment listed on this page.
The pharmacies listed below have met the Department of Health standards for the assessment and provision of aids to daily living. You will also see this accreditation sticker displayed, which is awarded when they have completed the training.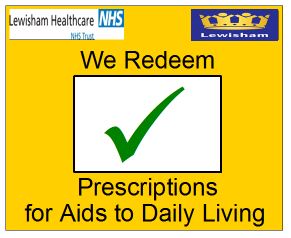 List of pharmacies
If you can't visit the shop
A friend, relative or carer can collect and fit your equipment. When they visit the shop, they will get instructions for fitting the equipment in your home and will have to sign on your behalf.