Making Lewisham carbon neutral by 2030: our climate emergency declaration
In February 2019, we agreed a motion to declare a 'climate emergency'. We asked Mayor and Cabinet to agree a new action to make the borough carbon neutral by 2030.
Lewisham is in National lockdown: Stay at home restrictions
The latest data on carbon emissions by local authority area was released by the Department of Business Energy and Industrial Strategy on Thursday 27 June 2019. This data shows carbon dioxide emissions in Lewisham were down by 38% since 2005.
In August 2019, officers appointed Aether consultants to provide additional evidence to underpin our Action Plan. The 'Route to Neutral' research was designed to support this Action Plan in relation to:
defining and measuring the carbon neutral target

establishing a baseline for Lewisham

identifying and costing the range of actions required to reach the target.
Carbon emissions baseline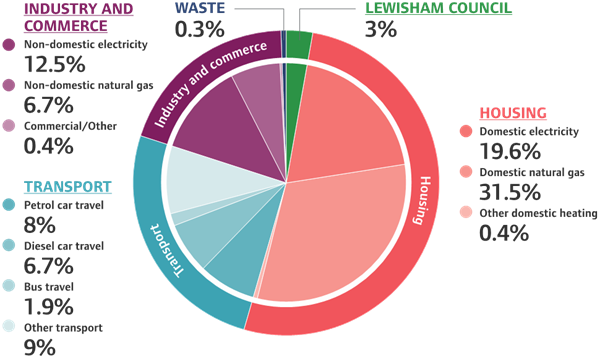 | Cause of carbon emissions | Percentage of total carbon emissions |
| --- | --- |
| Domestic natural gas | 31.5% |
| Domestic electricity | 19.6% |
| Non-domestic electricity | 12.5% |
| Other transport | 9% |
| Petrol car travel | 8% |
| Diesel car travel | 6.7% |
| Non-domestic natural gas | 6.7% |
| Lewisham Council | 3% |
| Bus travel | 1.9% |
| Commercial/other | 0.4% |
| Other domestic heating | 0.4% |
| Waste | 0.3% |
Half the borough's carbon emissions come from energy used within people's homes, which are split equally across the three sectors: owner occupier, social housing and private rented.
The remaining half is split between transport and business. Transport emissions include all vehicles travelling in or through the borough.
Our operations are responsible for 3% of the borough's total carbon emissions. This includes:
energy use in our buildings, including offices, schools, libraries and leisure centres
carbon emissions arising from our fleet.
What we have done since the declaration
We set up a mailing list for interested members of the public to receive updates on our climate emergency work. Sign up to our climate emergency mailing list.
We surveyed people who live or work in the borough about what they felt our carbon reduction priorities should be. Read our responses to the top three priorities from that survey.
In September 2019, we launched a new Community Energy Fund offering up to £15,000 one-off grants to local community initiatives to support energy efficiency and carbon reduction projects, such as solar panels on community buildings.
We participated in the launch of Solar Together, a community-based bulk-purchasing initiative to help Londoners access lower costs for solar panels.
We held a Public Forum on 29 January 2020 to discuss the outcome of our trajectory research and seek ideas for the Action Plan and our plans for the future. Watch the highlights of the discussion.
We completed a borough wide energy masterplan and strategic heat decarbonisation study. Burning gas to heat buildings is the single biggest contributor to Lewisham's carbon emissions. Moving away from gas to low carbon forms of heat is complex but crucial.
What we are going to do
Our Climate Emergency Action Plan was agreed by Mayor and Cabinet on 11 March 2020.
Progress on the Climate Emergency Action Plan will be reviewed annually by our Executive Management Team and through our scrutiny committee process including reporting annually to the Mayor and Cabinet on progress. We will publish a public update once a year setting out what has been done in that year and updating our set of actions going forward.
One of the actions that came out of the Public Forum was a desire to see more information on practical steps residents can take to reduce carbon emissions.
We will continue to develop this webpage over the coming months.