Our Climate Emergency declaration
Read our Climate Emergency declaration and Action Plan.
In 2019 Lewisham was one of the first local authorities in London to declare a 'climate emergency'. Our Climate Emergency Action Plan was agreed by Mayor and Cabinet on 11 March 2020 and sets out our ambition for the borough of Lewisham to be carbon neutral by 2030. Since then, Lewisham Council has also signed up to the UK100 "Net Zero Local Leadership Pledge", alongside over 40 other local leaders, to reach zero carbon before national government.
We are clear that action on climate change is action to support the most vulnerable in our communities. The consequences of inaction risks costs that will be impossible to meet. It is right that the public sector stands up for those least able to protect themselves and Lewisham's Climate Emergency Action Plan seeks to place social justice at its centre.
The data used to establish Lewisham's carbon emissions baseline was released by the Department of Business Energy and Industrial Strategy on Thursday 27 June 2019. This data shows carbon dioxide emissions in Lewisham were down by 38% since 2005.
What is the Climate Emergency?
Since the industrial revolution, humanity has had a huge impact on the natural world through the emission of greenhouse gases, such as carbon dioxide, as well as the destruction of forests and natural habitats.
In Lewisham the biggest sources of carbon emissions relate to the use of fossil fuels to heat and power our homes or in the fuel of cars and other vehicles on our roads.
There is substantial evidence that climate change as a result of this human activity is linked to increasing frequency and intensity of extreme weather events such as flooding, heat waves, drought and storms. There is no safe level of global temperature rise, which is already 1ºC above pre-industrial levels, and forecast to rise 0.2ºC a decade. This evidence is, largely, uncontested. Recognition of the threat of climate change is the mainstream view in the media and by the majority of governments across the world. Yet action has been unambitious and slow.
This disconnect between words and action is what underpins the sense of a climate crisis. Within a generation, unchecked global temperature rises are forecast to lead to average UK summer temperatures in excess of 30ºC, a halving of annual rainfall, and a 40% increase in extreme rainfall intensity. These kinds of changes will have overwhelming consequences for many residents.
Lewisham acknowledges the impact that climate breakdown is already having on the world and recognises the duty that it has, alongside all other local and national governments, to take appropriate action to prevent and adapt to these threats. Lewisham Council also acknowledges that cutting carbon emissions brings health, wellbeing and economic benefits.
Climate Emergency Action Plan summary
The strategy breaks down actions into five sections:
Inspiring, Learning and Lobbying
Each section of the strategy looks at action that the council has already taken, future plans as well as our asks of other actors, such as national government.
Read Annexes A and B below.
Annex A: Communications Strategy
Carbon emissions baseline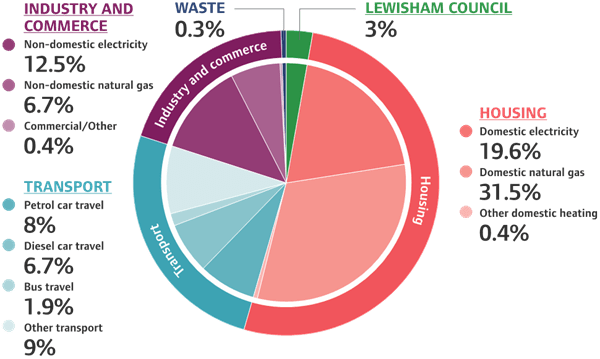 | Cause of carbon emissions | Percentage of total carbon emissions |
| --- | --- |
| Domestic natural gas | 31.5% |
| Domestic electricity | 19.6% |
| Non-domestic electricity | 12.5% |
| Other transport | 9% |
| Petrol car travel | 8% |
| Diesel car travel | 6.7% |
| Non-domestic natural gas | 6.7% |
| Lewisham Council | 3% |
| Bus travel | 1.9% |
| Commercial/other | 0.4% |
| Other domestic heating | 0.4% |
| Waste | 0.3% |
Half the borough's carbon emissions come from energy used within people's homes, which are split equally across the three sectors: owner occupier, social housing and private rented.
The remaining half is split between transport and business. Transport emissions include all vehicles travelling in or through the borough.
Our operations are responsible for 3 percent of the borough's total carbon emissions. This includes:
energy use in our buildings, including offices, schools, libraries and leisure centres

carbon emissions arising from our fleet.
What we have done since the declaration
We set up a mailing list for interested members of the public to receive updates on our climate emergency work.
Sign up to our climate emergency mailing list.
We surveyed people who live or work in the borough about what they felt our carbon reduction priorities should be.
Read our responses to the top three priorities from that survey.
In September 2019, we launched a new Community Energy Fund offering up to £15,000 one-off grants to local community initiatives to support energy efficiency and carbon reduction projects, such as solar panels on community buildings.
We held a Public Forum on 29 January 2020 to discuss the outcome of our trajectory research and seek ideas for the Action Plan and our plans for the future. Watch the highlights of the discussion.
Via Lewisham's Community Energy Fund, we supported the Retrofit Action for Tomorrow (RAFT) initiative, an innovative engagement project with St Winifred's School whereby pupils were introduced to the concepts of sustainable building and retrofitting in the context of their school. View the RAFT project video.
We completed a borough wide energy masterplan and strategic heat decarbonisation study. Burning gas to heat buildings is the single biggest contributor to Lewisham's carbon emissions. Moving away from gas to low carbon forms of heat is complex but crucial.
Other key achievements since the Action Plan was published in March 2020 include:
The Council successfully bid for £175k funding from the Government's Low Carbon Skills Fund to assess and develop detailed proposals for zero carbon retrofit work on 10 corporate sites and 5 schools. This funding enabled the successful bid to the Public Sector Decarbonisation Scheme as well as a set of 'shovel-ready' projects available for use when new funding opportunities arise.
In February 2021 the Council successfully bid for £2,983,428 funding under the Government's Public Sector Decarbonisation Scheme. This will fund energy efficiency works in the following Council buildings: Town Hall Chambers, The Leemore Centre, Sydenham Community Centre, Brockley Rise Centre, Granville Park Adult Learning Centre, Grove Park Adult Learning Centre, Hither Green Cemetery and Myatt Garden School.

In February 2021 the Council successfully bid for £825,000 funding under the Green Homes Grant Local Authority Delivery, which will deliver insulation and window upgrades to 165 Lewisham Homes properties.

In 2020/21 Lewisham's South London Energy Efficiency Partnership will support 2,895 low income and vulnerable households with practical advice on staying warm and cutting the cost of energy. The Council secured £435,000 external funding in 20/21 for fuel poverty advice services across South London;

We participated in the London

Solar Together

2019 scheme, promoting a bulk purchasing model to reduce the cost for residents interested in buying solar panels. We are participating again in 2021.

A new Parks and Open Spaces Strategy was produced, aligning how green and blue infrastructure in the borough contributes to achieving climate and wider environmental benefits;

Winner of the

2020 Community Tree Awards

thanks to our staff's hard work with Street Trees for Living;

We reached an agreement on a new investment strategy for the Council's Pension Fund which sets a low carbon mandate;

The Council's fleet were upgraded to comply with highest standards of emissions;

The shift to home working in response to the pandemic occasioned a significant increase in digitisation in the way staff work, resulting in big reductions in corporate paper consumption;

A 'warm mix' has been introduced on road resurfacing reducing carbon emissions by 10-15% and improving the efficiency and effectiveness of planned works;
What we are going to do
Progress on the Climate Emergency Action Plan will be reviewed annually by our Executive Management Team and through our scrutiny committee process including reporting annually to the Mayor and Cabinet on progress. We will publish a public update once a year setting out what has been done in that year and updating our set of actions going forward.
One of the actions that came out of the Public Forum was a desire to see more information on practical steps residents can take to reduce carbon emissions.
Read our resident guide to action on climate change. We will continue to develop this webpage over the coming months.