IMT apprentice case study
Charlotte Smith started her information management and technology apprenticeship in 2011–2012, and is now a crime enforcement and regulations officer.
How I started my apprenticeship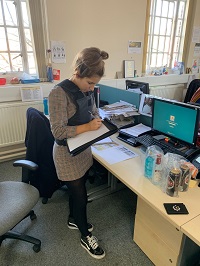 'My apprenticeship was in the Town Hall Chambers. I was in charge of IT finance, ensuring invoices were paid on time and distributing pieces of IT kit to staff. I was also given the opportunity to attend meetings and take minutes, which allowed me to network with other teams and gain valuable knowledge.
'I was 17 and still unsure what I wanted to do or what career path I wanted to take. I left college halfway through the academic year, as I wasn't enjoying the subjects I had initially chosen. Leaving college was a difficult decision and a huge risk. I saw the apprenticeships listed on the Lewisham Council website, and there were so many to choose from. I liked the idea of being able to learn something that colleges didn't offer – getting paid was a bonus too!'
What I'm doing now
'Since 2011, I have worked my way up, and I am now an officer for the crime, enforcement and regulation service. I have been able to learn all different types of legislation, and work with agencies like the police, housing associations, social services, and many more. Every day is different and I absolutely love it!
'To be successful, you don't have to do things "by the book" – you don't have to go to college and go onto university. A lot of people think this is the only route to success, but it isn't. Without Lewisham's apprenticeship scheme, I wouldn't be where I am today.'