Trading safely
Find out how to work safely and ensure your business is COVID-19 secure.
This information is here to support businesses as they seek to safely reopen and consider how to operate securely. This page will be updated in response to changing Government advice.
For more information or support on any of these matters, please contact economyandpartnerships@lewisham.gov.uk.
Rules for businesses
Following the Governments update on Tuesday 22 September, businesses must now follow these rules, or risk a substantial fine:
Rule of six
Pubs, bars, cafes and restaurants will now need to take bookings of no more than six people, ensure people are not meeting in groups of more than six people on their premises, and make sure there is sufficient space between tables.
Table service only
Pubs, bars, cafes and restaurants should operate table service only – ordering food or drink is not permitted at the bar or counter.
Test and trace
Designated businesses and organisations, including hospitality, close contact services and leisure venues, are now legally required to log details of customers, visitors and staff for NHS Test and Trace and are required to display official NHS QR code posters under law. More details are on this page.
Face coverings
Face coverings are now compulsory for bar staff, shop workers, waiters and taxi drivers to help control the spread of coronavirus. Customers must also wear a face covering in premises providing hospitality (bars, pubs, restaurants, cafes), except when seated at a table to eat or drink.
10pm closing time
Bars, pubs and restaurants must now close no later than 10pm and remain closed until 5am. Takeaways must also close their doors to the public at 10pm, however, deliveries of food are still allowed between 10pm and 5am.
Which businesses must remain closed?
How to work safely during COVID-19
As businesses begin to reopen and people return to their workplace, the Government has provided specific guidelines for working safely during the COVID-19 pandemic for different sectors of the economy.
The COVID-19 Secure guidelines includes advice and information for businesses on social distancing, carrying out risk assessments in accordance with the Health and Safety Executive, personal protective equipment (PPE), customer safety, employee safety, and more.
Sector-specific guidance
Here are the latest GOV.UK guidelines for safely reopening your business:
NHS track and trace and QR codes


Collecting contact details and maintaining records for NHS Test and Trace is a legal requirement for businesses open to the public.
Businesses that need to display the QR code affect the following sectors:
Hospitality
Leisure
Close contact services.
See details of the full list of settings required to display a NHS QR code.
A service has been established where you can create a QR code for display in your venue. Get visitors to scan the QR code when they arrive, using the NHS COVID-19 app. This is to help trace and stop the spread of coronavirus (COVID-19).
You should create and display a QR code if you are a business, place of worship or community organisation with a physical location that is open to the public, or if you are hosting an event which is taking place in a physical location. If you have more than one venue, you will need to create a separate QR code for each location.
You'll receive your QR code poster by email soon after you have submitted your information. If you have more than one location, the manager (or point of contact) for each location will also receive a unique QR code poster by email.
Visit the GOV.UK website to create your QR code.
For more information on how the app works see the explainer pack.
How to complete your risk assessment
You must complete a risk assessment to make sure your business is safe for staff, customers and the public. The Health and Safety Executive website has some helpful risk assessment templates and examples. You can use a risk assessment template to help keep a simple record of:
who might be harmed and how
what you're already doing to control the risks
what further action you need to take to control the risks
who needs to carry out the action
when the action is needed by.
Risk assessment templates
The below links are typical examples to show how other businesses have managed risks. You can use them as a guide to think about some of the hazards in your business and the steps you need to take to manage the risks.
Do not just copy an example and put your company name to it as that would not satisfy the law and would not protect your employees. You must think about the specific hazards and controls your business needs.
Legionella
You need to manage and keep all water systems safe whilst buildings are closed, to protect your staff and customers when you reopen.
Find out how to control Legionella.
Social distancing advice for businesses
Coronavirus (COVID-19) spreads from person-to-person so it's essential to reduce the ways people come in close contact with each other. This is called social distancing, and it is an important and effective way to slow down the spread of this virus.
Social distancing guidelines are to keep two metres apart from those outside of your household. New social distancing guidelines have been introduced – a "one-metre-plus" approach, where two metres is not achievable. This means that members of the public need to be more than one metre away from each other as long as other measures are put in place to limit the transmission of the virus. It is still recommended to keep a two metre distance wherever is possible.
Every business has a legal duty to protect their staff, customers and others affected by their work activities from the risk of coronavirus infection. Your customers will want to feel confident that your business is COVID-19 secure and that their health and safety is of the utmost importance.
Downloadable posters
Have you completed the 5 steps to compliance? (PDF)
Considering new ways of operating
If you are thinking about making changes to how you normally operate your business, you should first check whether you have any existing restrictions. These will normally be part of your planning permission or your licence. You should also check whether your business is located in a conservation area or is a listed building.
You should always try to speak to your neighbours before making any changes and be mindful of any impact on them.
Extending onto the pavement (forecourt) outside your business
You need a pavement trading licence in order to operate outside your premises. Learn how to apply for a pavement licence.
If you already have a street trading licence

then you can use it to trade and implement social distancing guidelines.

The Government is introducing legislation to make it quicker and easier for businesses to apply for these pavement licences (temporary). This could help businesses to better socially distance, by allowing consumption outside the business.

This new process will introduce a streamlined and cheaper route for businesses such as cafes, restaurants and bars to secure a licence to place temporary furniture on the pavement. This will support businesses to operate safely while social distancing measures remain in place.

This will provide much needed income over the summer months and protect as many hospitality jobs as possible. The Government has produced Draft Guidance for Pavement Licences. When these measures are brought into law we will issue further guidance.

If your business wants to make use of existing outside space and doesn't already have a licence, here a few considerations:
Make sure the noise from your customers isn't disturbing your neighbours or causing a nuisance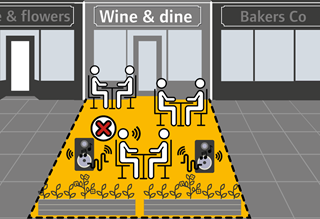 Don't extend out of your boundary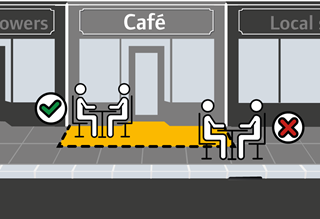 Think about safety and security of your staff, customers and public
You have to leave enough space for people on the pavement, especially wheelchair users or pushchairs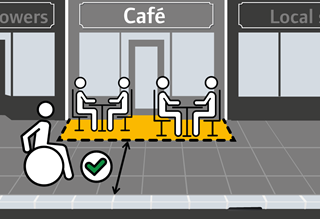 If your business is on a busy street, there has to be at least 3.5m between the edge of the seating area and the edge of the kerb so people can walk past at a safe distance.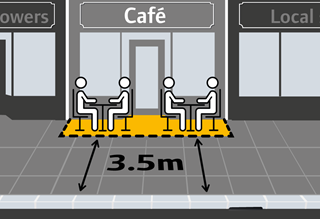 If your business is on a quieter street, there has to be at least 2.1m between the edge of the seating area and the edge of the kerb. You should contact us for advice if the 2.1m space contains any street furniture, such as benches, bollards or bins.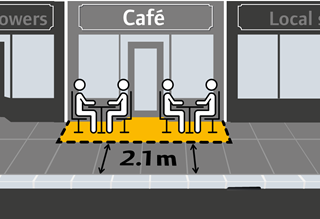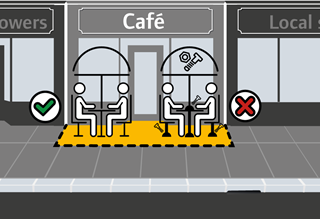 No use of marquees or patio heaters is permitted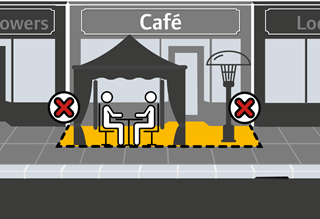 You might be able to use part of the highway such as parking or loading bays if they are directly in front of your business. It must be away from any pedestrian crossings and be 10m away from any junction. You cannot use disabled parking bays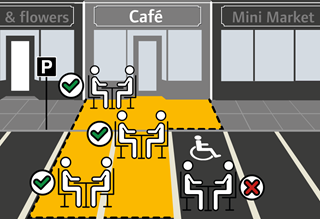 If you are going to use a parking or loading bay you will need to consider safety, servicing and security issues. There will need to be physical separation between the seating areas and passing traffic, a suitable alternative for servicing should be available and there should not be a level difference between the footway and the seating area.
Extending opening hours
If you are considering extending your opening hours, you should first check whether there is an existing licence or planning permission restriction. If there is an existing opening restriction in place you should seek advice before extending opening hours.
The use of outdoor space will be limited to 9am to 10pm regardless of operating hours.
An increase in hours in residential areas is more likely to be successful if noisy activities are kept to a minimum during early or late operating hours. If you have plant and/or flues you will need to be mindful of the noise and disturbance this can cause during extended hours.
Shopfront alterations
Any alterations to a shopfront, including awnings and canopies, are likely to require planning permission. Changes should be discussed with our planning service in advance of any physical changes being made.
Use of outside space
Some business have their own existing outside space. If you wish to make use of existing outside space, you should first check whether there are any restrictions in any planning permission or existing licence. If you use outdoor space, you should be mindful of managing noise from customers and disturbance to neighbouring occupiers.
Keeping our streets tidy
As businesses expand into different spaces and working patterns, it is important to remain responsible and clean up after yourself to keep customers and residents feel safe. For businesses trading on the pavement they must make sure:
Any rubbish is regularly removed (food and drink remnants, spillages, bottles, cans, wrappers etc)
Any tables or furniture are regularly cleaned
Any tables or furniture are removed every evening. The pavement is washed down to remove food debris or any spillages.
Keep Lewisham Safe posters for businesses