Guidance for the Clergy and authorised persons
Marriage certificate and register stock - Closure, return and destruction.
From 4 May 2021, Clergy and Authorised Persons are required to close their current duplicate registers and return one of them to their local register office together with any unused registration stock, such as certificates, nil and quarterly return forms. The remaining duplicate register will be retained by the registered building or in archival or diocesan custody.
In some cases, you may have a completely unused set of duplicate marriage registers. In these circumstances, you should also return the blank registers to your local register office where they will be destroyed.
Clergy and authorised persons will no longer be able to issue marriage certificates. This will be a function solely of the local registration service and the General Register Office.
Quarterly returns
Clergy and authorised persons will be required to submit all outstanding quarterly/nil returns to cover the final quarter up to 4 May 2021. These can be returned with your register.
Closing the current register
On 4 May 2021 in the page immediately after the last completed entry in your current duplicate marriage registers you should draw a diagonal line in registration ink through every unused entry. See example below.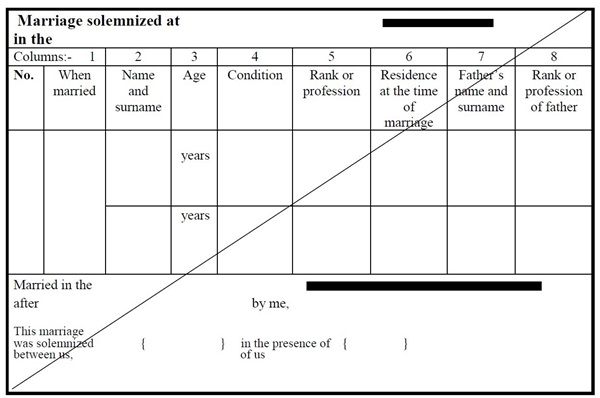 The register office will supply you with a receipt and duplicate closure label when you deposit your register.
Book an appointment to return your marriage certificate and register stock.
Published on: 15/02/2023