Mayor's Awards for Voluntary Contributions 2022
Nominations for the Mayor's Awards for Voluntary Contributions 2022 have now closed. Thank you to all that took part in the awards.
Website survey

We want your help with improving our website so it is easier to use, and provides the information that residents need. Help us by filling in this short survey.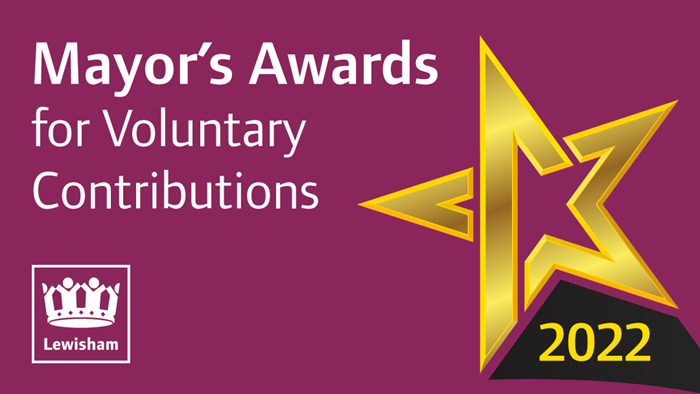 Shortlisted nominee films now available to view online
The Mayor's Award scheme was launched in 2017 to recognise the incredible efforts of people who live, work or study in Lewisham who willingly donate their time and energy to support others in our borough.
It has been a tough year for many as the effects of the COVID-19 pandemic continue to be felt across the borough. So, we are extremely grateful to the many volunteers who have continued their amazing work in supporting their communities. These awards give us a chance to recognise all our local heroes.
In addition, as Lewisham gears up to be the Mayor of London's Borough of Culture for 2022, we have added a new category for volunteers who are using the arts or creative pursuits to support local people.
We would like to extend our thanks to all of our incredible nominees this year. All those nominated will be sent a certificate and badge in the post.
Unfortunately, due to COVID-19 guidelines, we were unable to host a ceremony in person this year. Instead, we have handpicked a select few nominees to showcase online as part of the awards. We picked those who we felt could show the variety of voluntary work taking place in Lewisham, a special thanks to those who took part in filming. All films can now be viewed on Lewisham Council's YouTube channel.
Featured Nominees
Arts Champion: Sing a Book
Voluntary organisation: Lewisham Donation Hub
Voluntary Organisation: Lewisham Mencap
Young Person (Under 21): Cameron Spicknell
Young Person (Under 21): Faith Onomeugbeye
Business: Christ the King Sixth Form College
Business: Ordrs