In September 2015 the UK government announced that it would accept 20,000 Syrian refugees through a special programme called the Syrian Vulnerable Persons Resettlement Programme. On 21 September 2016 Lewisham's Full Council voted and formally agreed to resettle Syrian refugee households in the borough through this programme
The most vulnerable Syrian families are identified by the United Nations High Commissioner for Refugees (UNHCR) for resettlement. The UNHCR identifies people in need of resettlement based on the following criteria:
survivors of violence and/or torture

refugees with legal and/or physical protection needs

refugees with medical needs or disabilities

children and adolescents at risk

persons at risk due to their sexual orientation or gender identity

refugees with family links in resettlement countries.
Our story – Khalaf and Asmahan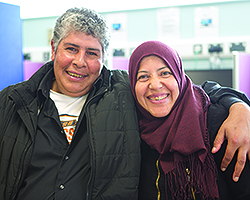 Khalaf and his wife Asmahan arrived in Lewisham in June. Both are Syrian nationals and lived in Lebanon before coming to England.
'We're so happy to be here,' says Asmahan. 'It's such a different place from where we've come from and we feel safe. We've met other families from Syria who arrived before us, and families that arrived on the same day as us but went to other places. It's a very nice little community. Marwa (from local charity SHP) gathers us all together and we are starting to feel like a big family.'
'And we're already used to the weather!' adds Khalaf. 'It's similar to where we come from in Syria. Then we moved and lived in the mountains in Lebanon which are very cold. It actually snows. So we're ready for it here. I'm learning English and starting from scratch because I don't know how to read or write but I know I must learn quickly. We're being taught to write letters and it's very difficult. As soon as I can, I want to get a job – maybe at the Council! I've worked in gardens before so would love to do gardening or something mechanical.'