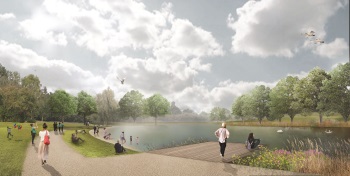 Come and celebrate the relaunch of Lewisham's biggest park and enjoy its new features, facilities and activities.
Location
Beckenham Hill Road BR3 1SY
Please note: the car park will be closed all day except to Blue Badge holders, so please travel by foot, bike or public transport.
See below for details on getting to the park.
Activities
The lake
12.45pm: Speeches on the jetty and formal opening of the lake
1pm: First swim
1–4pm: Swimming (pre-book swimming online)
1.15–7pm: Unit 137 sound system hosted by vocalist Shumba Youth, with: Kosher (vocalist), Zico (vocalist), A.P Grimshaw (Trumpet), Ed West (DJ), Sleepy Time Ghost (DJ), Alliance Sound System (DJ), Hylu
1–7pm: Paddling in the paddle zone (free)
4–7pm: Canadian canoes (£10, card payment only). Every half hour, arrive 15 minutes before. Limited spaces
Stableyard
1.30pm, 3pm, 4.30pm Georgian dancing and music. Georgian costumes to try on!
Formal gardens
1.15–1.45pm: Entelechy Arts – community choir from the Albany in Deptford
2–2.30pm: Vocallective – Forest Hill based choir singing a range of popular songs
2.45–3.15pm: Nielsen Reaveley – Radio 6 Music recommended singer song writer with acoustic guitar backing
3.30–4pm: The Lewisham & Greenwich NHS Choir – singing a range of popular songs
4.15–4.45pm: A Grand Scheme – folk band playing light, summery music to enjoy in the gardens
5–5.30pm: Lewisham Council staff choir – singing a range of water-themed songs
On the hour, every hour: Hear John Cator talk for 10 minutes about his residence! He will roam between talks.
The Mansion
12 noon–6pm: So Last Century market
12 noon–7pm: Forest Hill & District Classic Car Club Display on the carriageway drive
Elsewhere in the park
12 noon–5pm: Slack lining – a fun activity like tight rope walking. For all ages. Free!
1pm: Guided walk of the park. Meet promptly by the squirrel.
2–6pm: Roaming minstrels – Frisson, a 4 piece a capella group will be popping up and singing!
All day
Free face painting and free badge making by the sand pit of the children's playground
Stationary diggers to climb on – near the children's playground
Jimmy Botton's Fairground – near Southend Lodge gate (Beckenham Hill entrance)
Gardener's Cottage – the new volunteer hub & community garden open to look around
Information point in the formal gardens, along with consultation stands. Lewisham Local and the Bakerloo line extension information stalls near the diggers/children's play area

Lake activities
You can swim and paddle around the lake in Canadian canoes on the day and throughout the summer holidays. You need to pay for these activities, which will be supervised by lifeguards.
You can either pay on the day or book lake activities online.
Getting to Beckenham Place Park
Bus routes:
54 (Braeside entrance on Beckenham Hill) and 181, 320, 354, 352 (Old Bromley Road entrance).
Trains:
Beckenham Hill, Beckenham Junction and Ravensbourne.